08/06/2015
Kono Receives IAAF Silver Order of Merit from President Diack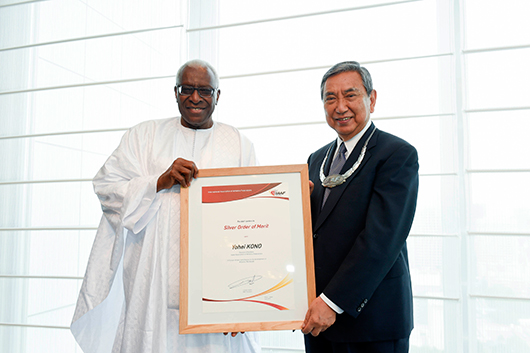 8 June 2015, Tokyo, Japan - Mr. Yohei Kono (78), the Honorary President of the Japan Association of Athletics Federation (JAAF) is presented with the International Association of Athletics Federation's (IAAF) Silver Order of Merit by Mr. Lamine Diack, the President of IAAF.
President Diack, who is in Japan, appreciates Mr. Kono's leadership and contribution in Japanese and International Athletics.
IAAF Order of Merit is the highest honour awarded to an individual who contributes to international athletics. Other Japanese recipients of the Merit are Mr. Hanji Aoki (1915-2010), IAAF Honorary Life Vice President and JAAF Honorary President who received the Golden Merit in 2007, and Mr. Hiroaki Chosa, JAAF Honorary Vice President who received the Silver Merit in 2010.